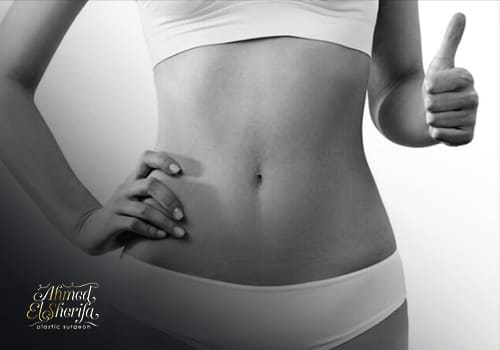 Important instructions after body tightening
After severe weight loss, many obese patients feel very distressed about their appearance. They lack self-confidence because of their severe skin sagging, which arise in significant weight loss in a short period. Here comes the role of body contouring procedures, but are their results considered guaranteed?
Tightening body sagging and removing excess skin is one of the most effective ways to get rid of the appearance of saggy skin, compared to other methods, such as exercise or others.
The skin tightening surgery helps to improve the body shape to a great extent. It allows tightening most of the body's sagging, such as: sagging of the abdomen, arms, buttocks, thighs, face, and neck.
It is also possible to notice the results of the surgery immediately after your leave from the hospital. The final results appear within 6 to 8 months or a year at a maximum, according to the degree of following the instructions of Prof. Dr. Ahmed El Sherifa and according to the nature of the skin and the degree of its sagging, and the extent of commitment in taking prescribed medications.
What after tightening the body sagging with Prof. Dr. Ahmed El Sherifa?
After the body contouring surgery with Prof. Dr. Ahmed El Sherifa, you must undergo medical supervision for at least a full night in the hospital. Then, after you leave, you must follow some important instructions, such as:
•
Not to engage in strenuous physical activities, as much as possible, at least one month after the surgery.
•
Drinking an abundant amount of water.
•
Taking care of the surgical incisions and following the doctor's instructions in dealing with them during the recovery period.
•
Maintaining a healthy balanced diet as much as possible.
•
Taking the vitamins prescribed by the doctor.
•
Limit your exposure to the sun and the swimming pool chlorinated water; to reduce skin dryness as much as possible.
•
Moisturize the skin and perform periodic peeling to stimulate blood circulation, thus showing a strong and satisfactory sculpting and tightening result.
•
Wearing a compressed bandage for the period specified by the doctor to prevent post-surgical swelling and bruising.
What are the places where sagging can be surgically tightened?
Sagging appears after bariatric surgeries due to stretching of the skin after severe weight gain, but with Prof. Dr. Ahmed El Sherifa you can overcome sagging of:
When is it recommended to go for body lift surgery?
•
If you suffer from severe sagging that decreases your self-confidence and satisfaction.
•
If you are not a smoker.
•
If you have reached your ideal weight and there is no desire to lose more weight.
•
If you are committed to a healthy and balanced diet and do not intend to gain weight again.
Are there other ways to tighten sagging without surgery?
Yes, many methods also help to significantly improve the shape of the sagging body, including:
•
Tightening creams such as collagen creams, proteins, vitamin C, and gelatin.
•
Tightening exercises, such as weights and resistance exercises.
However, these methods are considered to have a weak effect compared to surgically tightening and removing body sagging and need a much longer time, therefore they may be ineffective or suitable for many.