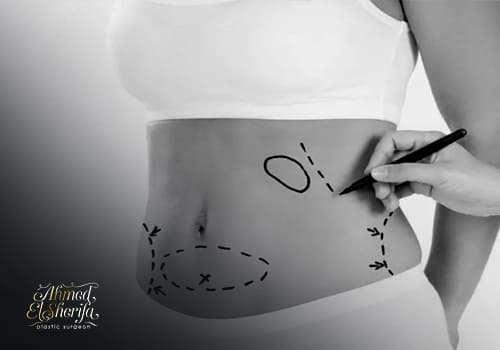 Tummy Tuck surgery after repeated childbirth
Prof. Dr. Ahmed El Sherifa performs the surgical tummy tuck in many cases, especially for patients with sagging abdomens resulting from repeated births, and it is also suitable for:
1.
Those with fatty and saggy abdomens after losing excess weight.
2.
Those who dream of having a fit and symmetrical body with a sporty belly, after achieving or nearly reaching the ideal weight.
But it is not suitable for:
1.
Whoever thinks of becoming pregnant, the date of the surgery must be postponed because sagging may occur again after childbirth.
2.
Whose body mass index is more than 30.
The results of the surgical tummy tuck appear immediately after the surgery, but there may be swelling and fluid accumulation around the abdomen which fades over time, and the swelling decreases significantly. The final result begins to appear 4 to 6 weeks after the surgery.
Post-surgical Tummy Tuck wounds:
After a surgical tummy tuck, you will not need to remove any sutures, because Prof. Dr. Ahmed El Sharifa is keen to use high-quality cosmetic sutures that dissolve on their own within the first week after the surgery. Also, their marks are much less than other sutures, so they appear as a very light line near the pubic area below the navel. Then their color disappears over time until they become invisible, but some people may go for laser improvement sessions.
Is a surgical tummy tuck safe?
Yes, Tummy Tuck surgery is completely safe and achieves very high success rates, but it requires total anesthesia, and its time is relatively long compared to other plastic surgeries. So before proceeding with the decision of the surgery, you must choose a specialized plastic surgeon who specializes in surgical abdominal tightening, and he has the appropriate experience and many success stories to guarantee a high success rate.
Before undergoing the procedure, Prof. Dr. Ahmed El Sherifa is also keen to review your and your family's medical history, current medications, surgeries that you have performed before, and if you are allergic to any medicine.
Also, he asks if you follow a diet, then requests a full physical examination and some other laboratory tests to ensure your safety before the surgery. Then he asks you to quit smoking for at least 2 weeks before the surgery while stopping anti-thrombotic medications such as aspirin to avoid bleeding during and after the surgery.
Are the results of a surgical tummy tuck permanent?
Yes, the results of the surgical abdominal tightening are permanent, except in the case of gaining weight again during pregnancy, damage to the abdominal muscles due to a cesarean delivery, or loss of abdominal skin elasticity. In general, you can preserve the result of the surgery by maintaining a healthy diet that protects you from gaining weight, and you should perform some exercises for a tummy tuck to keep the result as long as possible.
After the surgical tummy tuck with Prof. Dr. Ahmed El Sherifa, you will get a sporty belly, and you will have the freedom to choose any clothes, also your self-confidence will increase greatly.